"Lowest Prices Guaranteed"


Salted Naturally From Louisiana
LIVE OYSTERS BY THE SACK

$ 49.95

(broil,shucking, Good Raw Oysters with Cocktail Sauce)



Warning:
Consumer information-There is risk associated with consuming raw oysters.If you have chronic illness or the liver,stomach or blood or have immune disorder,you are at greater risk of serious illness or even death from raw and should eat oysters fully cooked.If unsure of risk,consult a physician
Oysters should not be consumed raw after 14 days from the date of harvest,but should be thoroughly cooked.






Genevieve's Brand
Oyster Shucking Knife - Professional Edition

Your Price $ 9.95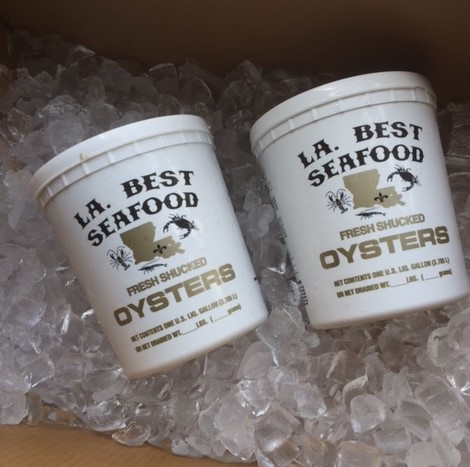 FRESH OYSTERS
(fry,Stew,soup ,gumbo)
Fresh Shucked Oysters . Gallon - Your Price $ 69.50



Fresh Shucked Oysters . Half Gallon. $ 35.75





Fresh Shucked oysters. Quart. $ 27.99





Fresh Shucked Oysters. Pint. $ 13.99




WE PACK AND SHIP ANYWHERE IN THE USA.




-Orders placed by 11am CST can ship out the Same day.
-Orders placed by 5pm CST can ship out the following day on the early morning flight.




Let us set up your account today,then it's as simple as a phone call to place your order at home.


For updated Prices and Information,Call Today.
Sales Office:(504) 464-9808




We Accept All Major Credit Cards
Home
Crawfish
Crabs
Fish Shrimp
Alligator,Turtle
Sausage / Seasoning
Contact us